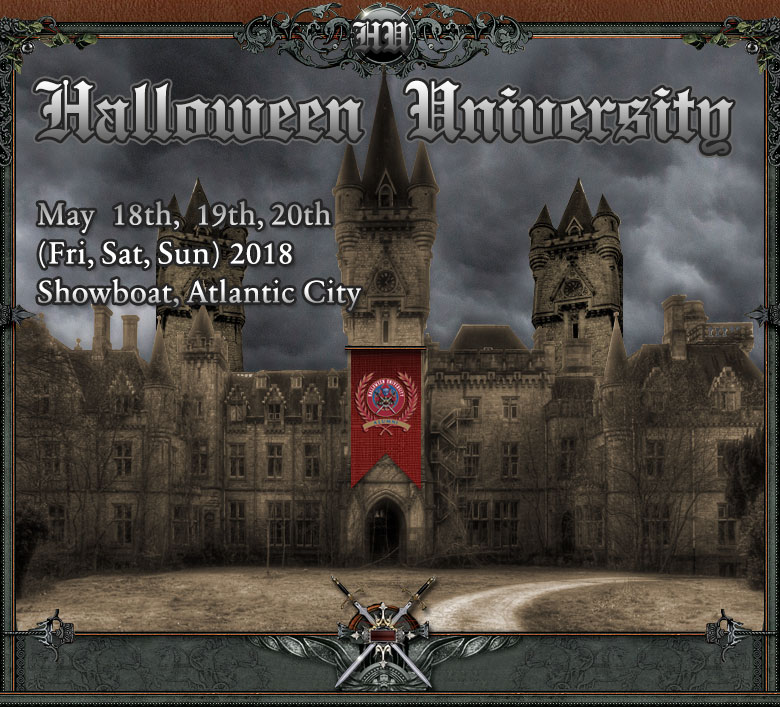 Chris Handa has been trouble-shooting at special and seasonal events since 1986. He is currently Safety/Compliance Officer for Castle Blood in Western PA and is a regular instructor for the PA Amusement Safety Inspector Seminars. His experience comes from keeping a cool head and finding unusual but practical solutions for everything from day camps to theatrical performances. He has been able to fix set electrical problems with Bic pens and locate a replacement gorilla suit with one phone call.  When not solving problems, calming haunt owners, or avoiding problems completely, Chris is also a magician who uses his crowd interaction skills to both entertain and be a functional part of crowd control for any event. This has come in very handy for onsite appearances sponsored by companies such as Nickelodeon and The Walt Disney Company and makes him an invaluable asset for grand opening and special event teams.  We have been honored to have Chris Handa as both our former and current Halloween University Headmonster.   You can contact Professor Scrye at Chris@HalloweenUniversity.com


Do you have a subject you feel would be perfect for Halloween University?
We want to hear from you!  Questions, comments, classes or ideas, please feel free to reach out to Headmonster Christopher Handa at Chris@HalloweenUniversity.com

Halloween University is a professional Haunted House School that is open to the public. The education you will receive from our seminars will last you a lifetime.  The classes will be given at the "Halloween Show & National Haunters Convention" at the Showboat Hotel & Convention Center on the Atlantic City Boardwalk. The classes and training will take place in both the Show Floor area as well as private areas dedicated for our classes.  We will continually challenge ourselves to bring you a very expansive lineup of seminars from all around the country. Our classes range from extremely Professional Haunted House owners, to incredible classes to increase your home haunting skills, to simply education or classes about awesome Halloween subjects.  We strive to bring you serious haunted house professionals from the greatest people in the industry to attend.  Our classes will cover a broad genre of subjects which classes you will want to attend.  Feel free to browse our class schedule and list here:  http://www2.halloweenshow.com/classschedule.aspx If you any ideas, thoughts or suggestions, please view our contact page and feel free to contact us at anytime. We look forward to creating a new and wonderful atmosphere for all of our friends and patrons in the Halloween industry. We are always open to new ideas, so please feel free to send us an email at anytime. Thanks again from all your friends and professors of Halloween University!


Halloween University has licensed our own official university appeal. Our clothing line has the same high quality design and fabric as major universities across the country.
Purchase your Halloween University Clothing Items and Show Your Support Today!
Halloween University
T-Shirts
$25.00
Available in Large and 2XL

Halloween University Hat
- Adjustable, One size fits all
$25.00
To Purchase a Halloween University T-Shirt or Halloween University Hat, please click here: http://www2.halloweenshow.com/purchase.aspx

Halloween University - HU - is a concept that was born in 2002 by Robert Hightower. After an outline for the concept was developed, the idea was pitched to Transworld in 2004 at the haunters pavilion. The hope was that eventually Halloween University would be allowed to thrive an expanding part of the pavilion of Transworld itself as a continuing educational program for the Halloween & Haunt Industry. Unfortunately, after only two years, the pavilion concept was abandoned, and there was no interest in having Halloween University so we began search for a new home.  In 2007, opportunity presented itself, as it was the first year of the Eastern Haunters Convention. The seminar classes at the convention were so overcrowded due to the huge demand for Halloween and Haunted Attraction knowledge. There was clearly a need for a much larger venue for education and the time for Halloween University was born.

In 2008, the Eastern Haunters Convention expanded with the concept of a National Halloween Convention to begin a phase into the National Haunters Convention & the National Halloween Convention by 2009. We were a part of that expansion with the seminar lineup being organized and run by Halloween University. Halloween University had the honor of residing at the Valley Forge Convention Center, and then onto the Oak's Convention Center before finally settling in at our greatest location yet.  Our metamorphosis has finally brought us to be known as the "Halloween Show & National Haunters Convention" which has become a fantasy event located at the Showboat Convention Center on the Atlantic City Boardwalk where we continue to reside to this day.
Here is just a brief sampling of the examples and numerous Professors that have walked the Halls of Halloween University.
Professor Anomalous
Kristen Phillips, Controller of the Critter
My interest in design, fabrication, and all things creepy began when I started dabbling in special effects makeup and sculpture in high school. I attended college for film and video production but continued to explore my interest in these areas. Since 2001 I have designed and built costumes, props, set pieces, and animatronics for theatre and small film productions, costume shops, television networks, and of course, haunted attractions in the Greater Philadelphia area.

Over the past few years I've built up a backlog of ideas- for props, costumes, masks, and animatronics inspired by working in and with haunted attractions. After some research I found that no other companies were making items quite like the ones I had in mind. I decided to build them myself in order to make them available to the industry. And thus, Safari Anomalous was born.
Professor Hanf-A-Domous
Rich Hanf, Head Master of Detention
No school or university would be complete without a place to send their WORST STUDENTS!!! It's called detention.

Who better to serve as "Head Master" (because he spent so much time in detention himself) than the man in charge who's livin' large…he's rollin' into Scare "U" with his trunk of funk where he'll be standin tall and doin' it all. He's the N.J. Legend, he's the Icon of the East, he's "HORROR MASTER" Rich Hanf!!!

Professor Reaper and Associates
Members of The Patient Creatures (East) Acting Troupe
The Patient Creatures have been appearing at haunted attractions since 1987, including ten years as featured performers at Six Flags America's "Fright Fest." They have also appeared at film festivals, media conventions, schools, libraries, community events, and parties of all kinds throughout the northeast U.S.

If you've dreamed of having professional entertainers at your next event, the kind of entertainers that are usually only found in major theme parks, then the Patient Creatures are just what you're looking for. The costumed characters roam and interact with your guests, adding a unique spooky atmosphere.

Designed for haunted attractions, the Patient Creatures bring their years of experience in a variety of venues to a hands-on workshop for actors. We can train your actors in characterization, improvisation, and safe interaction with guests. This seminar will help to improve your attraction year after year.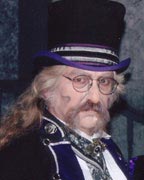 Professor MacCabre
Ricky Dick, Master of the Painted Arts
Ricky Dick, aka Gravely MacCabre of Castle Blood, has been teaching makeup, costuming, and prop building for over 25 years. People at well over 100 Science Fiction, Horror, Clown, Variety Arts, Haunt, and Costuming conventions have all improved their skills from Ricky's teachings.

Ricky Dick have been long known for the theatrical Halloween event Castle Blood, now getting ready for its 19th season in SW Pennsylvania. Castle Blood combines story telling, magic, and true interaction with the public to send patrons on a bizarre quest to solve the problems that are laid out before them for the night. The Castle is a very character driven attraction and actors from all over the U.S come to take part. Half of the present cast has been participating for over 10 years.

Ricky's costume and prop creations can be seen in Haunted Attractions, Home Haunts, and Fannish conventions all over the world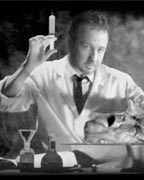 Professor Nightmare
John Denley, Master of Scareology
John Denley is the president of Boneyard Productions and runs one of the largest "mega-haunts" in New Hampshire. This year he ran the famed 'Spookyworld'.. His company has built and consulted for hundreds of haunted attractions from Madison Scare Gardens and Terror Behind The Walls to Hong Kong's first Haunted Theme Park. John, better known as "Professor Nightmare" to the media has been featured on The Today Show, CNN and Psychology Today Magazine.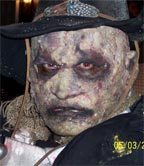 Professor Fear
Todd Patton, Master of the Unknown
Todd Patton has been working around haunted houses for over 20 years and has managed, had his own or consulted with haunted attractions for the past 10 years. Todd has been a guest speaker at numerous conventions, Con Nooga, and for a few haunted attraction's staff and managers. Todd has managed the Ruby Falls Haunted Cavern (a cave 260 feet below the surface) with his partner Tim Green (www.FEARCONNECTION.com) for the past 3 seasons and they are negotiating with several haunts for the 2009 season. Todd also introduced 'sliding' to the Chattanooga Haunt market in 2005 and has since trained sliders for Ruby Falls. Todd became known from the marketing doll known as 'Stabbo' the infamous clown that attends conventions with him and his team. Todd has also joined the convention world by acquiring Con Nooga a 'Multi-Fandom' convention covering everything from films, haunts, anime, comics, fantasy, sci-fi, costuming and more. (www.CONNOOGA.com) and becoming a partner with a Gaming Convention called: "Dicehead Siege". (www.DICEHEADSIEGE.com) Todd lives in Chattanooga, Tennessee with his wife, 2 kids, 2 dogs, Stabbo, 17 coffins and hearse.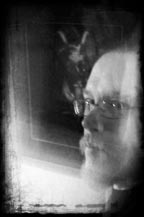 Professor Zombie
D.E. Christman, Master of the Undead
D.E. Christman is an artist that simply wants to scare the hell out of you. And he takes great pleasure in doing so. He makes his living through his company Grendel's Den Design Studio, which specializes in web design and graphic design for various industries such as Speculative Fiction publishing, Alternative Music labels and the Haunt industry. Over the years he has been involved in organizing various spooky events, including the Philly Zombie Crawl and Zombie Prom, and the Philly Pirate Cruise.

He is also owner and operator of the genera-bending fan web log Zombie Monkey Projects and PhillyFrights.com. And on top of all of that he is also regarded as one of Philadelphia' s premier zombie experts and has given various interviews and lectures regarding his knowledge of the Living Dead.
Professor Mike "Tattoo" Krausert
Director of Operations - Nightmare New England & SpookyWorld
President – Bad Boys Scenic Design, LLC
Vice President – International Association of Haunted Attractions
With 20 years of experience Mike is a respected designer and leader within the haunt industry, Mike has written several instructional articles published in Haunted Attraction and HauntWorld magazines and has taught classes at the Transworld National Halloween Show, HauntCon, Midwest Haunters and the Eastern Haunters Conventions. Mike continues to promote new techniques to advance the design evolution and creative development within the haunt industry. In 2007, Mike was the recipient of the Isabella Award which honors an individual whose achievement is measured by his/her contributions towards improving and strengthening the haunt industry as a community of artists and enthusiasts and who set a positive example for others to follow. Mike lives in the Boston area and serves as the Director of Operations for Nightmare New England & SpookyWorld located in Litchfield, New Hampshire.

Through the years, Mike's attractions have been featured in Haunted Attraction, HauntWorld, 13th Hour, SkinDeep, Nickelodeon, Family Circle, & Sound and Video Contractor Magazines as well as industry videos highlighting haunts from across the U.S.

Professor John
John Ehrenreich, Master of the Foam Carving
In a previous life, John was an Engineering Manager for a major electronics firm. In pursuit of hobbies and other interest, John and his wife Pat, have found the many uses of Styrofoam. They have been users of various hot wire tools to sculpt and carve Styrofoam for over 15 years. Now retired, John, with Pat, have represented Hot Wire Foam Factory as Sales Consultants for the past five years. John has applied his experience with hot wire tools to his own Halloween front yard haunt as well as to various other hobby and craft interest such as model railroading, village collectibles and historic miniatures. www.hotwirefoamfactory.com
Professor Scrye
Chris Handa, Master of Spooky Magic
In addition to 14 plus seasons of haunting and work with about a half dozen different attractions, Chris Handa brings years of experience to haunting from two different arenas: his life experience as a professional entertainer and as a volunteer/event manager. A magician since age 8, Chris began to apply his experiences with magic to different environments in high school. He met others with mutual interests in haunting and magic, and learned that he could have fun with both as a performer, designer, and teacher of spooky magic.

For 10+ seasons, he has worked with Castle Blood as "house magician" and magic designer/consultant for both the seasonal haunted attraction and CASTLE BLOOD'S MIDNIGHT MONSTER HOP, a weekly horror host with an ensemble cast that airs in several markets. Chris has presented spooky magic to several organizations outside of haunting, consulted with several attraction owners and managers, and has taught magic at numerous haunt conventions and gatherings since 2001. He has written two smaller publications containing his original magic scripts and is in the process of completing a larger book on his experience with the design and performance of magic at Castle Blood.

As a manager/administrator, Chris' attention to detail has put him in lead positions with theatrical events, conventions and gatherings, camp programs, and haunted attractions and events. Chris has considerable experience in the area of event and volunteer management as a former Professional Employee of the Boy Scouts of America, and has a knack for both finding seemingly-impossible solutions to emergency problems and finding ways to get paying customers to empty their pockets of cash before leaving events. With Castle Blood, Chris works on the administration/operations side with concession/front of house operations as well as in his role as Safety/Compliance Officer. In the Commonwealth of Pennsylvania, he is a registered Class I Amusement Inspector and is happy to share tips and advice to help other haunts work with their state and local officials.

Chris has worked in haunts since 1984 and is a fan of all types of haunted attractions from home haunts to county fair trailer mazes to the dark rides at Universal and Disney. He'll travel half a day just to see an attraction, and honestly believes that seeing any haunt is better than a day without seeing a haunt at all. He and his wife Kari have visited more than 100 attractions since their marriage in 1999. Their daughter Katelyn (4) has visited many haunts as well, but still isn't sure whether she likes all of them or not.
Professorious Vox Satannas
Dick Terhune, Master of the Dark Arts of Advertising & Marketing
DICK TERHUNE (Professorious Vox Satannas) is the Haunt Industry's Internationally-Acclaimed "Voice From Hell" and Master of the Dark Arts of Advertising & Marketing. After three decades as an Award-Winning Commercial Writer, Producer, and Voice-Actor, Dick's Evil Genius has turned to the creation of Attention-Getting Traffic-Building Advertising, Voiceovers, and Marketing Strategies for the Haunted Attraction & Dark Amusement Industries through his website www.VoiceFromHell.com, where you will hear samples of his Insidious Inspiration."
Professor Gore
Jeremy D'alessandro, Master of the Art of using Blood
Jeremy D'alessandro started haunting when he was 14 years old acting for a home haunt. In 2002 he opened his first Haunted Attraction. Since then he has ran 5 Haunted Attractions in the last 6 years. The Zombie X Treme in seaside NJ was rated 5 star rating in its first year of operation. His Haunted Houses have been featured in the Daily news, The Staten island advance, News 1, Hauntworld the magazine, Haunted Halloween 2, 3, 5, Hauntfreeks.com, Newsday, The Bay and kings news.

Jeremy has also built in designed Haunted 3D laser tags. In 2003 Jeremy started a new project called Creepycollection.com. Jeremy always had a passion for prop making and props that looked real. Creepycollection.com became a fan favorite right from the start. After 4 complete years creepycollection.com has become the #1 custom props online beating all competitors and has become known for the most realistic props on the market today. Jeremy also has started to get to do TV & Movie Production besides selling props in the Haunted Attraction Industry. Creepycollection.com has sold props to The Discovery Channel, Off the Lot, After Dark Films 8 movies to die for, FNS Productions, Clothing Designers Like Marc Jacobs NY, Beverly Hills, San Francisco as well as for Crime scene investigators.

Jeremy's Biggest attribute is the he is a well rounded Haunter he can build you a prop, give you set design, costuming, make up, masks, Film and production & Advertising events. Jeremy is also a Advertising rep for TRIBUNE and has 6 years of experiences in media, marketing and design.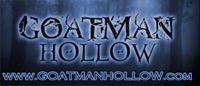 Professor Wright & Livingston of GoatMan Hollow
Jenny Wright and Bill Livingston , Master Death Makers
Jenny Wright and Bill Livingston are two of the four masterminds behind "GoatMan Hollow: The Interactive Haunted Experience" in the Maryland / Washington D.C. metro area. Together Bill and Jenny have created many props and scenery décor with Monster Mud Techniques, which gives GoatMan Hollow its uniquely eerie feel.
For a complete list of classes and costs, please click here.